Welcome Paint Lovers…
Sunday @ A Sunday Afternoon submitted her stunning media cabinet makeover.
She scored this old media cabinet for free on Craigslist – YAHOO. She made her own chalk paint and painted the main sections white and the front piece blue;  then distressed and glazed it. Some spray painted chicken wire and a canvas drop cloth fabric inside makes it pop.
~~~~~~~~~~~~~~~~
Lori @ Bleak 2 Unique submitted an adorable mural she painted for her church nursery.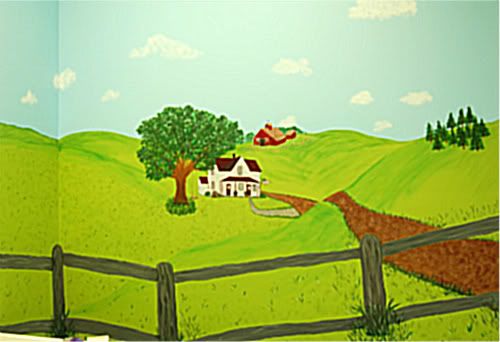 Her nursery at church was just plain blue, so she volunteered to paint a country mural. She used free hand, stencil and projected images to complete the project. Super cute!
As always you can click on the photos to get all the juicy details.
Don't forget… you too can submit your paint projects. Just click the "Submit Your Paint Project" in the menu bar and fill out the form.
Have a great day with a splash of paint!
Pin It