Welcome Paint Lovers & Happy Friday!
I've got some tips to share today… Nothing like learning some paint tips to make the paint experience easier and/or quicker.  Here's some that I've collected at Pinterest.
Wipe off your excess paint without making a drippy mess of your can with a rubber band.  No messy paint around the edges.
Martha's awesome tip… save your paint stir stick and write the color name, brand and numbers on the stick.
Rub some Vaseline on your door frame so you can close your door while it dries (LOVE this blue door).
If you have textured ceilings, use a screwdriver to scrap off some of the texture to make it easier to cut in a smooth edge.
Use a nail to prop up your chairs… makes painting to the bottom of your chair legs much easier… I've used this one!
Great brush and roller tips, like trimming your roller's rough edges.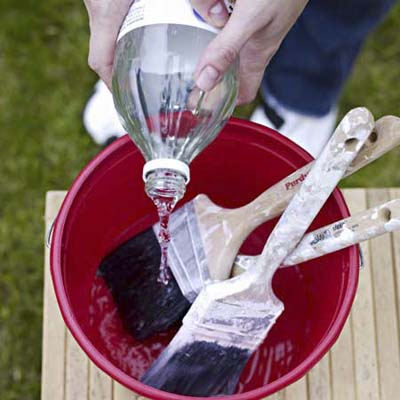 Revive old brushes by soaking them in hot vinegar for 30 minutes and then clean them with soapy water.
As always you can click on the photos to get all the juicy details.
Don't forget… you too can submit your paint projects. Just click the "Submit Your Paint Project" in the menu bar and fill out the form.
Have a great day with a splash of paint!
Pin It